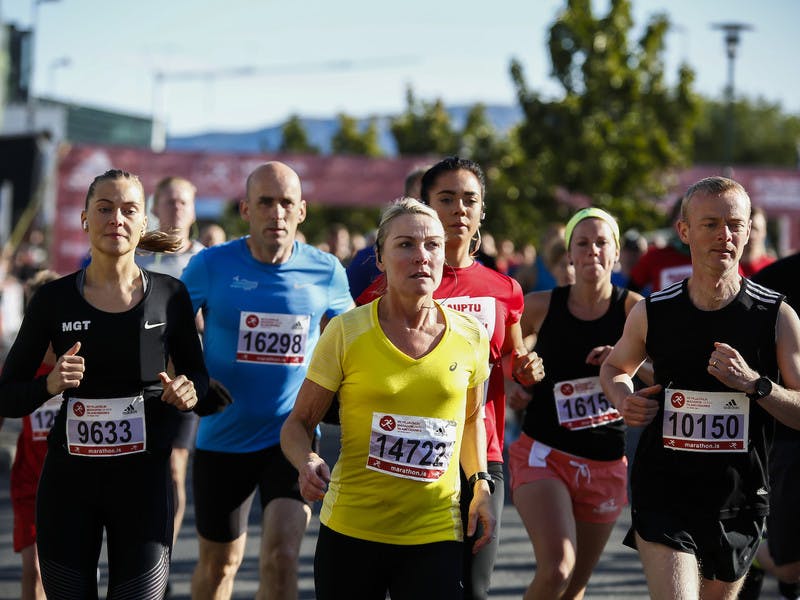 The 10 k race has been the most popular distance in the Reykjavik Marathon since 2005. The first time a 10 k race was a part of the Reykjavik Marathon in 1993 1.131 runners took part. Past few years around 7000 runners have registered for the 10 k. 
Participants
The 10 k race is not recommended for people younger than 12 years old. The time limit is four hours and 30 minutes. 
Registration
Registration should be done online here at marathon.is. It will also be possible to register at the EXPO but then the entry fee will be higher. Click here for further information about registration for the Reykjavik Marathon. Participants in the 10 km, 21.1 km and 42.2 km distances, are prohibited from bringing strollers/pushchairs or prams onto the course.
The route
The 10 k race starts and finishes like other competitive distances in the Reykjavik Marathon downtown within sight of the pond and the city hall. The location is unbeatable, considering that a large number of hotels are within 5 to 10 minutes walking distance from the start of the race.
The first part of the course runs through a residential area where many of the inhabitants come out of their houses to cheer the runners on. This is followed by a section where the runners pass along the seaside and have excellent views of the ocean, but also of the mountains surrounding Reykjavik, including Esjan and the Snæfellsjökull glacier. 
These are the streets runners run through: 
Sóleyjargata, Njarðargata, Þorragata, Suðurgata, Lynghagi, Ægisíða, Nesvegur, Suðurströnd, Lindarbraut, Norðurströnd, Eiðsgrandi, Ánanaust, Mýrargata, Tryggvagata, Pósthússtræti, Austurstræti and Lækjargata.
The course is measured by certified AIMS measurer and accredited by the Icelandic Athletic Federation.
Click here for a map.
Refreshment stations
A refreshment station will be located after about 5 KM. Powerade and water will be provided. The location of the station is marked on the route map.
Timing
Timing is done by a MyLaps/ChampionChip electronic timing. Each participant gets a number with a chip that measures the time. Click here for further information about timing.
Prizes
All the runners that finish the race will receive a medal. The top three runners in the 10 k race will receive special awards. See further information here.
Age groups
The first runner in each age group will get a special prize. See further information here.
Send us an e-mail to  [email protected] if you need further information about the 10 k race.