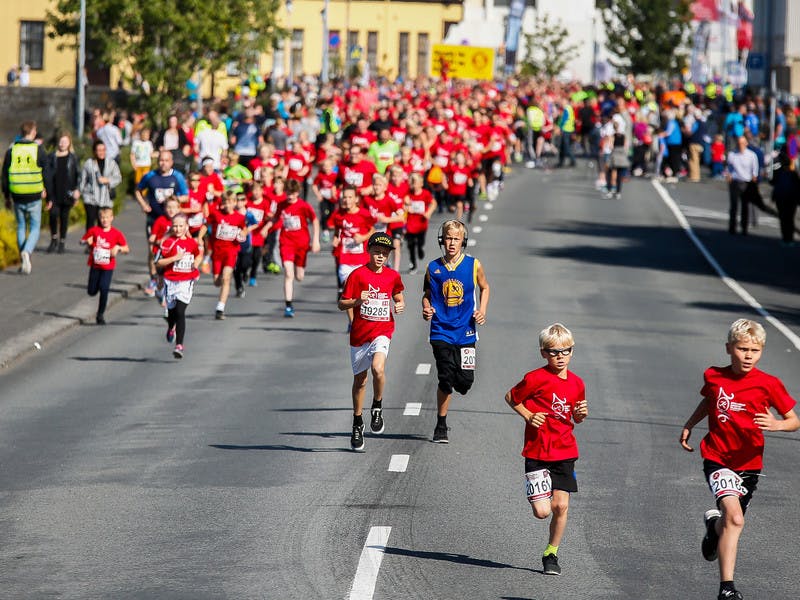 Since 1993 the fun run has been part of the Reykjavik Marathon. The event has been popular right from the start. Yearly 2.000-2.500 people take part in the Reykjavik Marathon fun run. 
Participants
The 3 km fun run is open for all age groups. Parents often run this distance with their children. 
Registration
Registration should be done online at this website. It will also be possible to register at the EXPO but then the entry fee will be higher. Click here for further information about registration for the Reykjavik Marathon. 
The route
The fun run starts and finishes like other distances in Reykjavik Marathon downtown within sight of the pond and the city hall.  
These are the streets runners run through: 
Sóleyjargata, Njarðargata, Fjólugata, Bragagata, Laufásvegur, Hellusund, Grundarstígur, Spítalastígur, Ingólfsstræti, Amtmannsstígur, Þingholtsstræti, Hellusund, Skothúsvegur, Tjarnargata, Vonarstræti, Templarasund, Kirkjustræti, Pósthússtræti, Hafnarstræti, Veltusund, Austurstræti and Lækjargata.
Refreshment stations
A refreshment station will be located at the finishing area. Powerade and water will be provided. 
Timing
In 2015 timing was offered for the first time in the fun run. Timing is done by a MyLaps/ChampionChip electronic timing. Each participant gets a number with a chip that measures the time. Click here for further information about timing.
Prizes
All the runners that finish the race will receive a medal.
There are no special prizes for the first three finishers in the fun run. Timing is just for fun and to give the participants a possibility to set a time goal improvement for next year.
Send us an e-mail to [email protected] if you need further information about the fun run.