End of charity collections 2019
After donation collection at hlaupastyrkur.is around the Islandsbanki Reykjavik Marathon ended, Islandsbanki, the main sponsor of the race, hosted an event to celebrate in their headquarters. Representatives from charities, runners, organisers of the race and supporters came together.
This year the total amount collected was 167,483,404 ISK split between 181 different charities which is a new record, 6.7% more than the previous record from last year. This means that the total amount collected for charities since the race became a charity race is just under 990 million Icelandic Króna.
Those runners who collected the most for their charity got specially honoured at the event. A few charities where awarded a price money for their presence on the course during the race.
Olga Katrín Davíðsd. Skarstad collected the most of the individuals on hlaupastyrkur.is, 1,400,000 ISK for the charity, Ólavia's Friends - Charity. Olga Katrín was also the participant with the highest number of donations this year. The running group that collected the most money was Ólavia's Friends - Charity, 3,886,000 ISK and the company running group that collected the most was Deloitte Iceland, 851,265 ISK.
The donations collected will be given to the charities at the end of October. All donations collected will go straight to the charities because Islandsbanki bank pays for all the cost of the donation collection.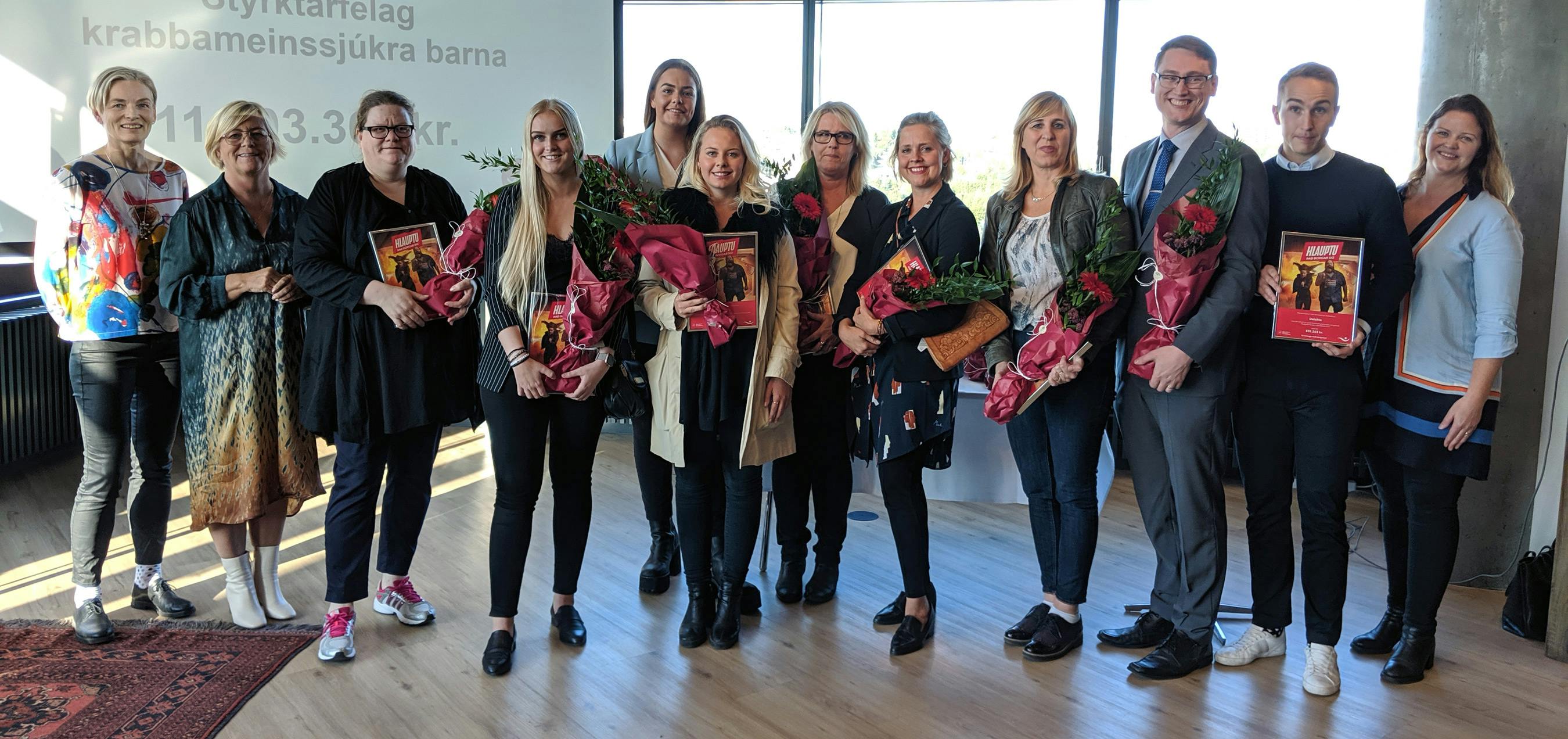 From the left: Jóna Hildur Bjarnadóttir, race director of the Islandsbanki Reykjavik Marathon, Birna Einarsdóttir, Islandabanki bank director, Kolbrún Stígsdóttir from the charity: Samtökum um enómetríósu, Agla Sól Pétursdóttir who was the third highest individual in charity donations, Olga Katrín Davíðsd. Skarstad who collected the most donations, Mekkín Bjarkadóttir from the running group Ólavia's Friends, Ólöf Ólafsdóttir from the stray cats animal help, Sólveig Kolbrún Pálsdóttir from Ljósið, Ævar Ólafssson and Freyr Baldursson from Deloitte and Gígja Gunnarsdóttir, secretary of the Reykjavik Sports Union Board of Directors. Not pictured, Arnar Hallsson who was in the second place of total collected donations.