This is information from last year's event. We do not expect that there will be any major changes made to this since last year but we will update the date and year when everything is confirmed to be correct.
Traffic disturbance on Saturday, August 18th, 2018 because of Reykjavik Marathon

Like past 34 year, it is necessary to close streets while the Reykjavik Marathon takes place. Drivers can also expect traffic disturbance in few places. 
Roads closed from 00
Lækjargata between Vonarstræti and Bankastræti
Roads closed from 04
Lækjargata between Vonarstræti and Hverfisgata
Amtmannsstígur by Lækjargata
Skólastræti
Þingholtsstræti
Skálholtsstígur
Fríkirkjuvegur to north
Roads closed from 08-15
Kringlumýrarbraut north of Borgartún
Sæbraut from Harpa to Holtavegur
One-way traffic from 08-14
East on Eiðsgrandi
East on Mýrargata
West on Ægisíða and Nesvegur
Traffic disturbance from 8-12
Skothúsvegur, Suðurgata to Melatorg, Lynghagi, Suðurströnd, Lindarbraut, Norðurströnd, roundabout furthest west on Hringbraut, Ánanaust, roundabout by the end of Mýrargata, Fiskislóð, Grandavegi, Suðurgata, Hringbraut by Melatorg, furthest east on Vesturgata, Borgartún and Kringlumýrarbraut crossroads, furthest west on Klettagarðar, Sundagarðar, Dalbraut, Suðurlandsbraut and Reykjavegur crossroads, Álfheimar by Glæsibær shopping center, Skeiðarvogur by Suðurlandsbraut and Stjörnugróf by Traðarland. 
Engjavegur from Gnoðavogur to the ice rink in Laugardalur (closed from 9:30-12:00)
Walking paths
Pedestrians using walking paths from Fossvogur to Seltjarnarnes and by Eiðsgrandi are kindly asked to give way to runners on race day.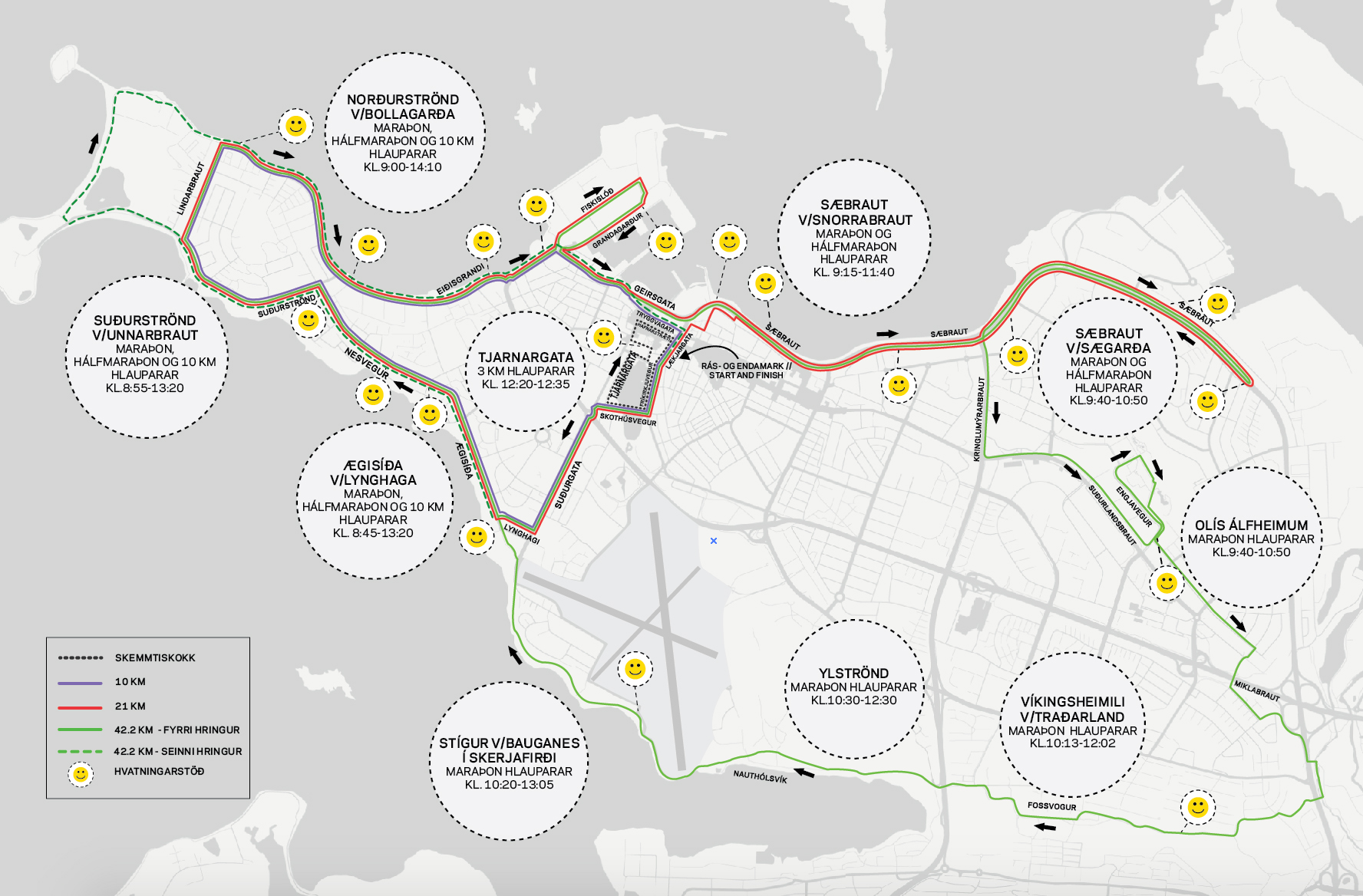 Parking places down town are limited. Runners are therefore encouraged to leave the car at home. The police will fine all illegally parked cars. Helpful information about parking places and bus routes are available at the Culture Night web menningarnott.is.