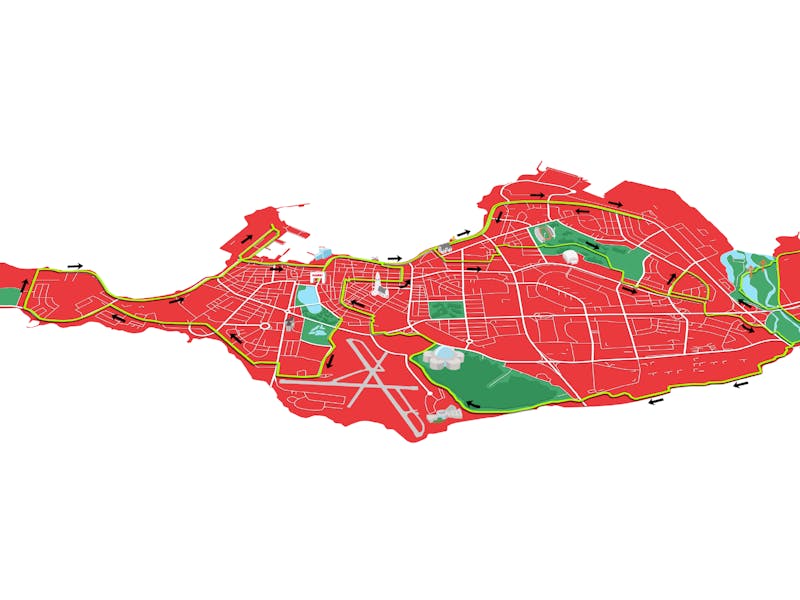 Even though the 2020 Islandsbanki Reykjavik Marathon cannot take place this year you can still collect donations for a charity of your choice. We want to do everything we can to assist the charities that count on this race, the runners, their friends and families for support every year. Support your charity, for free!
In the first Reykjavik Marathon in 1984, 56 runners took part in the marathon distance. In the past few years there were around 1.500 registered runners. 
This distance is meant for fit and well trained runners that are up for this major challenge.
Here you can see Marathon courses ideal for this years (2020) special charity event since there can't be an official race.
Course 1 - The Reykjavik Marathon Course
The course of the Reykjavik Marathon is unique, and very scenic. The marathon is one lap and starts in Sóleyjargata and finishes downtown in Lækjargata within sight of the pond and the city hall. The location is unbeatable, considering that a large number of hotels are within 5 to 10 minutes walking distance from the start of the race.
The first part of the course runs through a residential area where many of the inhabitants come out of their houses to cheer the runners on. This is followed by a section where the runners pass along the seaside and have excellent views of the ocean, but also of the mountains surrounding Reykjavik, including Esjan and the Snæfellsjökull glacier. Participants in the marathon also run through the Elliðaárdal valley, the location of one of the country's more popular salmon-fishing rivers, a small waterfall, and some woodland. In the last part of the race, the participants pass a number of famous buildings, including Höfði House, a Reykjavik City Council reception venue where US President Ronald Reagan and USSR General Secretary Mikhail Gorbachev met for a summit in 1986.
Most of the race takes place on the streets of the city, although parts of the route are run on tracks, particularly the seaside and salmon river sections.
These are the streets and tracks runners run through: 
Sóleyjargata, Njarðargata, Þorragata, Suðurgata, Lynghagi, Ægisíða, Nesvegur, Suðurströnd, Lindarbraut, Norðurströnd, Eiðisgrandi, Ánanaust, Fiskislóð to Hólmaslóð and then back the same way. Grandagarð, Mýrargata, Geirsgata, Kalkofnsveg, Sæbraut to east, Sæbraut to west, in Katrínartún (Höfðatún), Miðtún, down Hátún, east on path in Sóltún and beside Kringlumýrarbraut. Over walkway to Hofteigur, over Reykjavegur and to a path in Laugardalur valley (Þvottalaugavegur), east on a path along Engjavegur and then on a path beside Suðurlandsbraut. Skeiðarvogur, Langholtsvegur, Gnoðarvogur, Skeiðarvogur, east on a path beside Suðurlandsbraut, walkway over Miklabraut and a path along Miklabraut. Under Reykjanesbraut, path to Rafstöðvarvegur north, to a path beside Bíldshöfði to west, path along Knarrarvogur, Súðarvogur, Naustavogur and the walkway over river Elliðaár. Path beside Sævarhöfði to east, Tangabryggja, path behind Naustabryggja, Naustabryggja and Sævarhöfði to south. Rafstöðvarvegur to south, path over river Elliðaár, under Reykjanesbraut and through Fossvogsdalur valley. Below the cemetery to a cycling path along Öskjuhlíð, under Flugvallarvegur and follow a path along Flugvallarvegur and west on a path beside Bústaðavegur. Walkway over Hringbraut, path along Vatnsmýrarvegur and over the old Hringbraut. Bergstaðastræti, Skólavörðustígur, Grettisgata to east, Barónsstígur to north, Skúlagata to west, Sæbraut to west Kalkofnsvegur and Lækjargata.