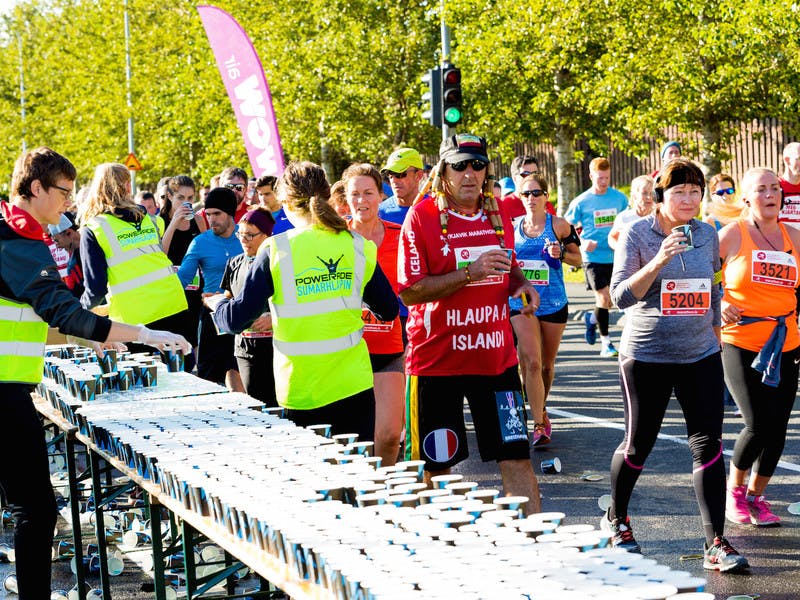 The following are information about the service provided on race day to runners in the Islandsbanki Reykjavik Marathon.
Storage for clothing and belongings

Our information center on the day of the race will be at Menntaskólinn í Reykjavík, MR (the white house to the left in the picture below) located to the east of the starting area. The information center is open from 7:00-16:30. Competitors can leave their personal belongings in MR. The belongings will be guarded but responsibility is not guaranteed for any valuables or money left in the storage area.

Lost items

Lost items will be brought to the information centre (MR) on race day. After the race, any lost items will be brought to the Reykjavik Sport Union Office at Engjavegur 6, 104 Reykjavik. Tel: +354-5353700.

First aid

Race marshals will provide assistance along the course and call for further help if needed. First aid will be available at the finish area.

Portable Toilets

Portable toilets will be situated outside Menntaskólinn í Reykjavik (big white school building by the start/finish line) and close to 4,5 km, 8 km, 13 km, 16 km, 20 km, 24,1 km, 27,2 km, 30,5 km, 34 km, 37 km and 40 km on the route and by the finish line as well. Click here to see the location on a map.

Refreshment stations

Refreshment stations are situated approximately every 4 km. Gatorade and water will be provided (and bananas to the marathon runners on every other station in the second half of the route). The exact location of the refreshment stations are 4,5 km, 8 km, 12 km, 16,1 km, 20km, 24 km, 27 km, 29,7 km, 33 km, 36,4 km and 39,2 km. You can also find the stations on the route map.

Runners in the full marathon can leave a refreshment at the EXPO on Friday, the day before the race. It will be brought to the 20 km, 27 km and/or the 33 km drinking station. Be sure to mark your refreshments with your bib number. 

The Route

The route will be marked with yellow stripes on the ground and light neon green spray paint. Distances in km will be marked with signs along the route. Unfortunately, the route is not completely closed for car traffic so runners are kindly asked to be careful.

Geothermal Baths and Pools in Reykjavik

All runners who take part in Reykjavik Marathon are invited to take a dip in any of Reykjavik's geothermal baths and pools, either on race day or the day after. Click here for further information about the geothermal baths and pools in Reykjavik.